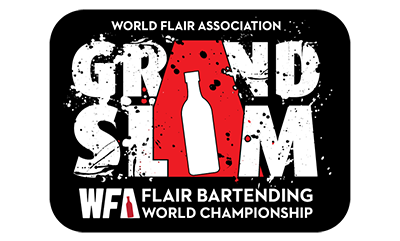 Cambridge Cocktail Weekend is proud to have teamed up with the WFA and Fabbri to host the World Gram Slam Flair Cocktail bartender competition at Cambridge Cocktail Weekend, a competition that attracts the Worlds' best bartenders to compete and gain points to ultimately be crowned this years' World Champion.
What is Flair bartending?
Flair bartending brings some theatre to serving a cocktail with tricks and panache by juggling, flicking, rolling and balancing bottles and cocktail shakers as part of a cocktail serve. Think Tom Cruise 30 years on. These guys though are seriously skilled and make extremely difficult tricks look easy. This is an energetic competition set to high tempo music.
Who Takes Part?
The World's best bartenders fly in from all over the World to take part. A bit like Formula One Grand Prix there are only a handful of Grand Slams held across the World each year. Cambridge Cocktail Weekend is very lucky to be hosting one of these!
Points are awarded at each Grand Slam (both for the tricks and the taste of the cocktail) and at the end of the season, the bartender with the most points is crowned World Champion. Leading Industry experts are flown in to judge the competition with a different judging panel to judge the flair and the cocktail taste.
How Long does the Competition last?
Each bartender's routine lasts for only a couple of minutes and there will be around 5 minutes for re-setting the stage between each competitor. The heats will generally last around one and a half hours. The final will last around 2 hours osta geneerinen levitra.
Do the bars close during the Competition?
Absolutely not!!!!
You can still peruse the bars trying new cocktails whilst watching the competition. 
The competitors love there to be a party atmosphere whilst they are performing so please be as vocal as you want encouraging and cheering them on!
To gain an idea of what to expect, have a look at the video from last years' WFA competition at Cambridge Cocktail Weekend.