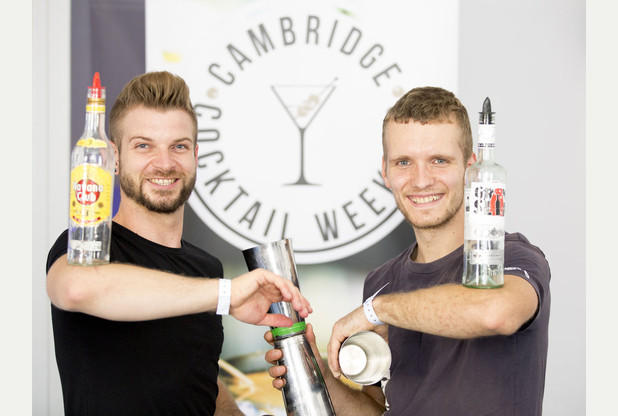 Bottles fly as inaugural Cambridge Cocktail Weekend gets under way at Corn Exchange
Read more >>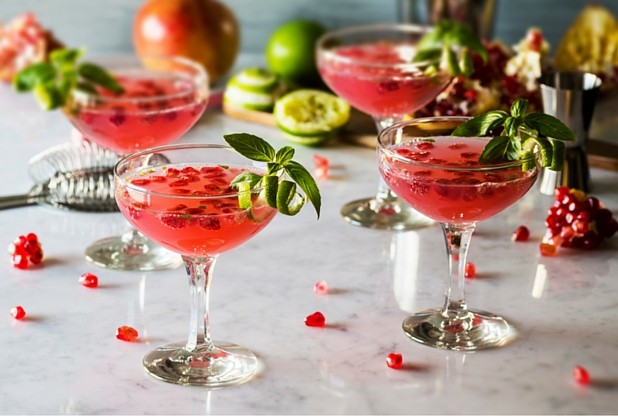 The finalists for Cambridge's biggest-ever cocktail competition have been announced.
Over the past few weeks, Cambridge's most talented bartenders have been battling it out for a chance to be crowned King or Queen of the cocktail – and these are the fab five who made it through to the final: Dan Wilson from Ta Bouche Cambridge, Kasia Pasierb from 12a Private Members Club, Anthony Chan from Cambridge Wine Merchants, Autoin Chhabra from Hidden Rooms and Jess Lee from Ta Bouche Cambridge.
Sponsored by the drinks wholesaler Matthew Clark, in association with Cambridge Cocktail Weekend, the competition started with two preliminary knockout rounds in which contestants had to make a 'Twisted Sours' cocktail using a maximum of five ingredients (including one homemade) and produce a cocktail from a box of mystery ingredients (think a boozy version of Ready Steady Cook with), and will culminate in a Grand Final at Cambridge Cocktail Weekend on Sunday, August 28.
In what promises to be a tense battle of cocktail making and shaking prowess, the five finalists will be given £5 and 30 minutes to go and purchase a serving vessel (no glass allowed) and ingredients (excluding the alcohol which will be provided on the day) and return to the stage to make their concoction.
Good luck, guys! Make ours a Cosmo, yeah?
:: To watch the final, purchase a Sunday day ticket for the Cambridge Cocktail Weekend. See cambridgecocktailweekend.co.uk for more information.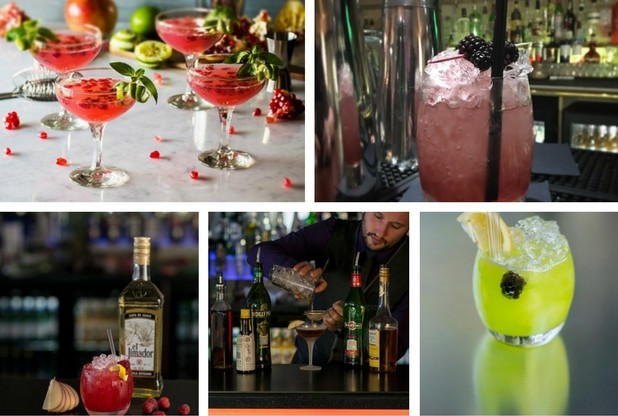 Fancy a cheeky tipple? The Cambridge Cocktail Weekend starts on Friday – and it's going to be EPIC! Here's everything you need to know. . .
What is the Cambridge Cocktail Weekend?
A three-day boozy extravaganza presented by Cambridge Live and La Raza events, it will feature more cocktails than you can shake your straw at (over 50, apparently), as well as masterclasses, workshops, flair bartending demonstrations, live music and the final of the Cambridge Cocktail Competition, which will see the city's cocktail kings and queens battle it out to be crowned ultimate champ.
Which bars are going to be there?
Read more at http://www.cambridge-news.co.uk/everything-you-need-to-know-about-the-cambridge-cocktail-weekend/story-29645595-detail/story.html#PghS7LmWr3CxIiHb.99
The Corn Exchange is going to be turned into a mega cocktail bar, with the following pop-ups selling a HUGE variety of delectable drinks. . .
Novi
Ta Bouche
La Raza
2648
Tanqueray 10
Bulleit
Le Haig
Ketel One
Ciroc
Pinkster
Cranes
Veuve Clicquot
Moet
Belvedere
Angostura
Luxardo
Malibu
Havana Club
Each of the bars will have specially crafted drinks, with prices starting at £5.
Is there music too?
Absolutely! As day turns to night put on your dancing shoes for music from awesome ska band Big 10 on Friday, pop duo Truly Medley Deeply on Saturday and fab five-piece Swagger on Sunday.
What about food?
Mother says never drink on an empty stomach, and there'll be plenty of food to feast on, as well as drinks to sip. Delights include tapas boxes (£6), with meat and veggie options, plus pulled pork, pulled carrot and shredded beef buns (£6).
Can I still buy tickets?
You can buy day tickets for £4 and evening tickets for £10 from cornex.co.uk / (01223) 357851. Tickets should only be purchased by people aged 18 and over.
Recipe
To whet your appetite (and your whistle), here's an exclusive recipe for The Pinkest Lady, which will be available at the La Raza pop-up over the weekend.
Ingredients
37.5ml Gin Mare
12.5ml Grand Marnier
5ml rose water
25ml lemon juice
3-4 raspberries
15ml egg white
Method
Shake the ingredients hard with ice, then discard the ice and shake again without (dry shake). Serve in a coupette or martini glass and garnish with a raspberry. 
Cambridge Cocktail Weekend, Cambridge Corn Exchange, Friday, August 26 – Sunday, August 28. Tickets are £4 (day) or £10 (night) from cambridgelivetrust.co.uk. Visit cambridgecocktailweekend.co.uk for full details.
Read the article >>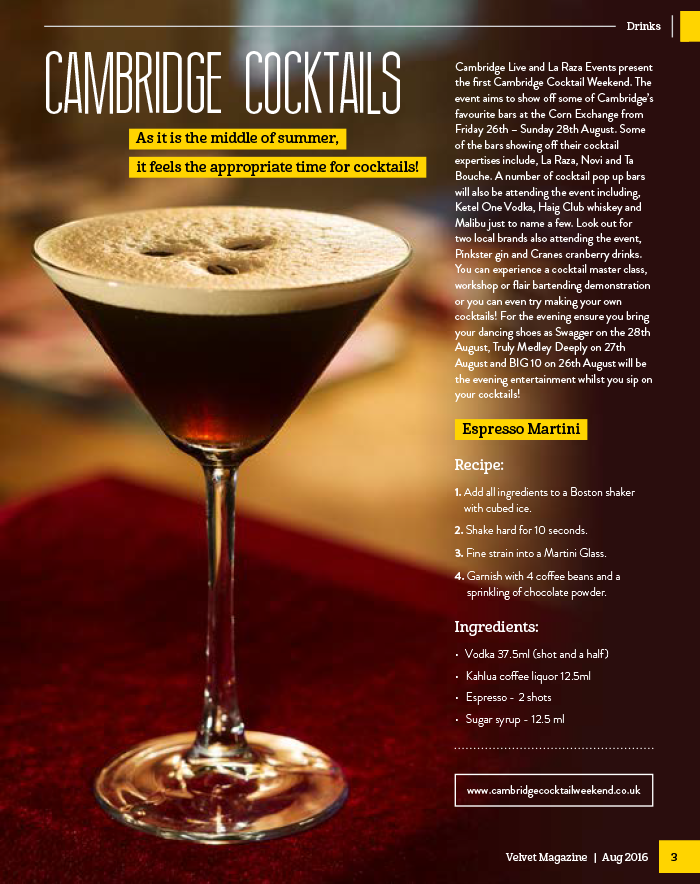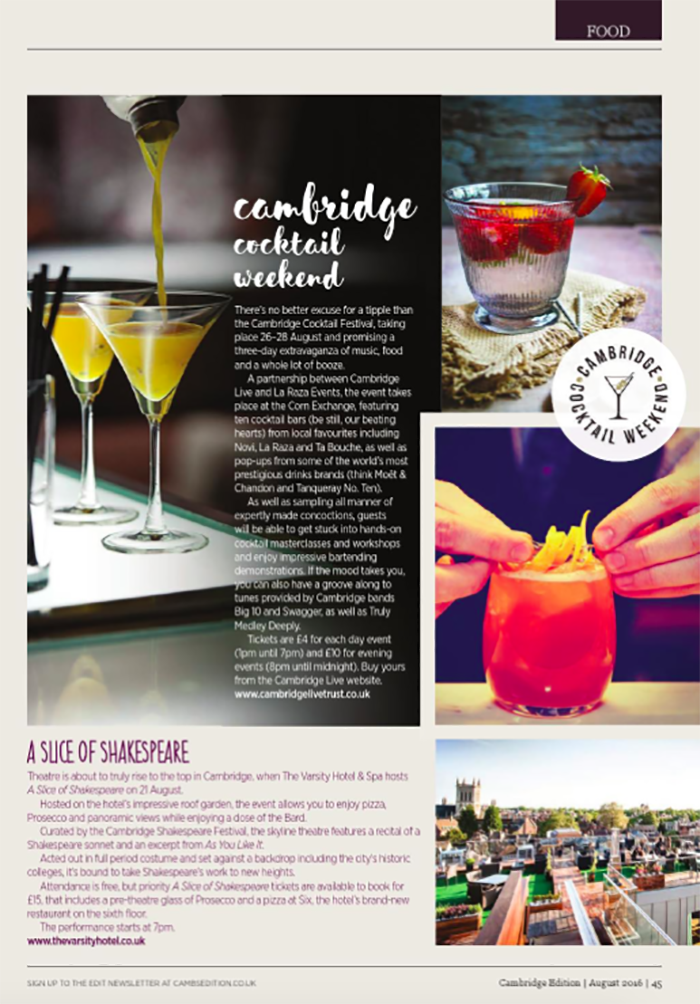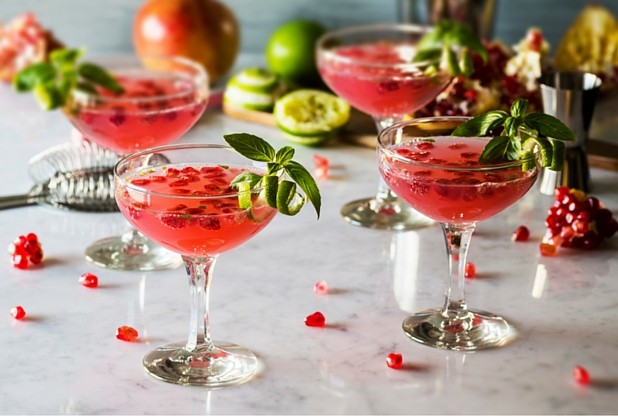 Cambridge Live and La Raza Events are gearing up to present the first Cambridge Cocktail Weekend. The event will showcase some of Cambridge's best bars, alongside some of the world's largest and most prestigious alcohol brands, with over 10 cocktail bars all in one room.
Participating Cambridge Cocktail bars include La Raza, Novi, Hidden Rooms, 2648 and Ta Bouche. There will also be branded pop up bars from Haig Club, Tanqueray 10, Bulleit, Ketel One, Angostura, Luxardo, Moet & Chandon, Malibu, Havana Club and local brands Cranes and Pinkster.
Entertainment will be included in the form of cocktail masterclasses, workshops and flair bartending demonstrations giving you the chance to try your hand at the art of cocktail making. And as if that doesn't already sound like the best thing you could ever imagine, there will also be live music from Cambridge bands Swagger and Big10, together with London based former Cambridge student's duo Truly Medley Deeply all providing a soundtrack to your cocktail creating, flaring (and drinking) fun.
Cambridge Cocktail Weekend, Aug 26-28, £4 for each day event (1-7pm) and £10 for evening events (8pm -12 midnight). Visit cambridgelivetrust.co.uk to book and go to cambridgecocktailweekend.co.uk for more information.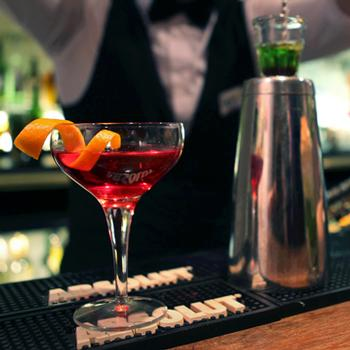 The art and delectation of cocktails are winning the day, spreading from bars to pubs, restaurants and homes, and now a celebration of the culture of mixed drinks with funny names, coupled with a night of music and dancing, is coming to Cambridge as a 'cocktail weekend'.   Bringing the long-established 'cocktail week' concept from London, the organisers have built on the growing popularity of cocktails, which like craft beer, are enjoying a renaissance as people are drawn to the 'craftsmanship that's gone into making the drink,' said Diageo drinks distributor Richard Holland.    Tastes have changed too, with Cambridge now seeing 'a general demand for cocktails,' said La Raza bar owner Charles Anderson. 'Where you used to just have classic cocktails, you now have all bars creating cocktails, serving a whole different interest in quality and quantity.'
Anderson, who has been a major force behind the 26-28 August weekend along with his colleague Sean Bayliss, expects to bring out the budding connoisseurs. 'Cocktails are savoured,' he said. 'You pay a premium for a cocktail… It's more about the enjoyment and the experience.'   According to a recent drinks industry report, people are going out less, but when they do they want something better, and led in part by nostalgia for the cocktail heydays, encouraged by the Mad Men series about 1960s lifestyles, they are drinking more cocktails.
Twenty percent more outlets serve cocktails, and not just bars, with a third of pubs and more restaurants now serving cocktails too. More women drink cocktails than men, but that's changing too with men now making up 45 percent of drinkers.   The cocktail weekend will be about learning to make and serve cocktails, with instruction from from local bars and industry experts representing brands like Haig Club, Tanqueray 10, Bulleit, Ketel One, Angostura, Luxardo, Moet & Chandon, Malibu, Havana Club and local brands Cranes and Pinkster, and then dancing the night away to bands at the Corn Exchange.
From Friday through Sunday, the Corn Exchange and Cambridge town centre bars La Raza, Novi, Hidden Rooms, 2648 and Ta Bouche will by day hold hands-on workshops culminating in the final of a cocktail making competition among the city's bartenders on Sunday at 1pm.
Included in the programme are a daily 5.30pm slot by Ta Bouche's flair bartender Chris Whelan, who has competed all over the UK against some of the world's top bartenders. His class is in 'flair bartending' — showmanship in serving – like tossing bottles and pouring from on high.  A general cocktail masterclass is also on at Ta Bouche on Friday at 2pm.   In the lobby of the Corn Exchange, a number of brands will be on show. Diageo will be showcasing their world class spirit brands, including Ketel One vodka, Bulleit bourbon, Tanqueray No10 & Haig Club with special cocktail masterclasses based around each spirit.   Luxardo's European will be giving a masterclass on 'craft cocktails at home' using items from a home pantry, simple techniques, and Luxardo liqueurs, such as Maraschino, Sangue Morlacco, Sambuca, Amaretto, Grappa, Passione Nera, Slivovitz.
Other cocktail masterclasses, workshops and flair bartending demonstrations will be announced online. Tickets for the events are £4 for a day ticket, and £10 for the evening.    By night, the music from Cambridge bands comes to the Corn Exchange for dancing to the music of from Swagger (28th Aug), doing 'the greatest tunes from any decade', Truly Medley Deeply (27th Aug), known for 'medleys of musical wonderment' and local ska legends BIG 10 (26th Aug), with 8 to 10 musicians on stage, the official announcement said.
Cocktails are typically made from gin, brandy, vodka, whiskey, tequila, or rum and other alcoholic drinks mixed with liqueur, juice, fruit, sauce, honey, milk or cream, spices, or other flavourings.
The most popular choices are the rum, lime and sugar concoction, Mojito; the vodka, triple sec and cranberry juice, the Cosmopolitan; the tequila, triple sec and lime or lemon juice, drink often served with salt on the rim of the glass, the Margarita; and the mix of  vodka, coffee liquor and espresso called the Espresso Martini.   A growing number of bars also offer non-alcoholic cocktails, called 'mocktails', for teetotlers.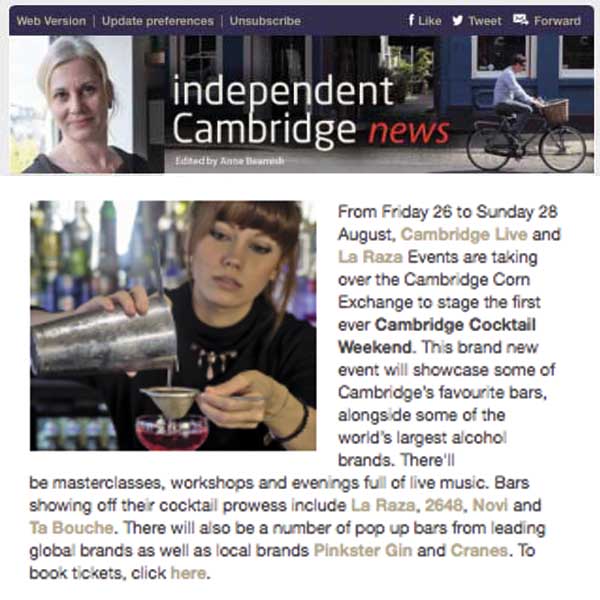 CAMBRIDGE MAGAZINE PICK OF THE WEEK
SUP UP
Fancy a Fuzzy Navel? How about a Monkey Gland, a Mudslide or a Corpse Reviver? Whether you like your cocktails shaken, stirred or served with a porous pebble (to ensure the driest possible Martini, fact fans), get yourself down to the Corn Exchange for the Cambridge Cocktail Weekend.
More than 11 bars will be set up in celebration of the mighty beverage, as well as masterclasses, demonstrations and live music. And the cherry (or fancy umbrella) on top? The final of the Cambridge Cocktail Competition, which is being battled out by more than 40 local bartenders. Make ours a Woo-Woo.
The Cambridge Cocktail Weekend runs from Friday to Sunday (August 26-28). Tickets are £4 (day) or £10 (night) from cambridgelivetrust.co.uk.
Visit cambridgecocktailweekend.co.uk.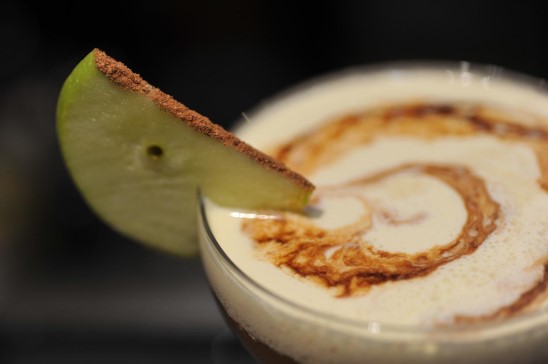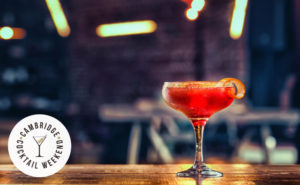 A festival of delectable drinks awaits
Get stuck into a three-day extravaganza of music, food and a whole lot of booze as we welcome Cambridge's first-ever Cocktail Weekend. A partnership between Cambridge Live and La Raza Events, the weekend features ten cocktail bars (be still, our beating hearts) from local favourites including Novi, La Raza and Ta Bouche, as well as pop-ups from some of the world's most prestigious drinks brands (think Moët & Chandon and Tanqueray No. Ten).
As well as sampling all manner of expertly made concoctions, guests will be able to get stuck into hands-on cocktail masterclasses and workshops as well as enjoying impressive bartending demonstrations. If the mood takes you, you can also groove along to tunes provided by Cambridge bands Big 10, Swagger and Truly Medley Deeply. Read on for the full story and for booking info.